Attention Deficit Disorders/Hyperactive Disorders' organization
The "ADD-ADHD Cyprus" is a voluntary organization, supporting people with Attention Deficit Disorder with/without Hyperactivity (ADD/ ADHD) and their families. Members include parents, teachers, doctors, and specialists. The organization's mission is "To improve the lives of all those affected by AD/HD by offering support, information, education and advocacy" with the vision of "An Empowered and Integra ted AD/HD Community".
Goals are to advocate on behalf of adults and children with ADD/ADHD, to ensure that they are aware of their rights, and to support them and their families by providing information and skills to help them succeed in the home, in school and at work.
The association offers:
Lectures Seminars Support
Groups Guidance/Coaching
Advocacy
Website
Newsletter
Hotline
Psychoeducational Assessments
Special Education Lessons
Occupational Therapy
Speech Language Therapy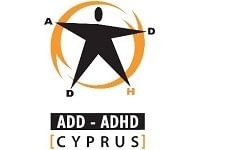 P.O.Box 12187
2341 Cyprus
Tel 22446592