For adults, provides services to long term dependent substance users
"Agia Skepi", a long term Therapeutic Community for adults, is a private non for profit organization founded in 1999. It provides services to long term depended substance users and their families in an inpatient and outpatient setting. The main goal of the program is total abstinence from illicit drugs and alcohol. The facility is located in Politiko village in the outskirts of Nicosia, in a privately owned building within 50 acres of land that belongs to the Holy Abbey of 'Machaira'.
The therapeutic community is perceived as the main therapeutic tool; it assists in promoting growth in an alternative house with an alternate family. Rehabilitation is achieved through the process of differentiation from the other members as well as from the team. The TC operates in a hierarchical way in which members change roles and receive responsibilities. The entry criteria include 1)willingness to actively participate in the TC and reach abstinence, 2)be at least 18 years old, 3)gone through detoxification prior admission and 4)completed a preparation process (which includes various types of evaluations)prior admission.
The program is based on the bio-psychosocial model and cognitive behavioral theory. The daily living activities of members include: – Group therapy – Educational groups – Drama therapy – Ranching – Cooking – Gardening – Sports – Art – Entertainment. Finally, the program provides assistance for vocational rehabilitation and social reintegration.
Currently, Agia Skepi runs 4 programs. The Therapeutic Community, the Counseling Center, The Family Program, the Reintegration Program and the newly formed Women's program where drug addicted women, pregnant women that are using drugs, as well as mothers of young children can attend the program which gives the option to reside with their young children in the Therapeutic Community.
Both the Therapeutic Community and the Women's program remain the only ones of their kind to Cyprus. Currently all of the programs of Agia Skepi serve on average 110 clients on a weekly basis.
Since 1999, more than 800 people received services.
The legal name in the registry of foundations of the Cyprus government is "foundation of therapeutic community Agia Skepi"
The organization receives a limited amount of governmental aid and is mainly sponsored by the "Association of Friends of Agia Skepi " who has been struggling for years now, through fund raising to keep the Therapeutic Community alive.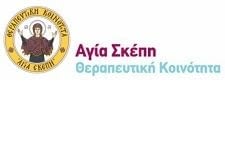 Contact
Elektras 2
Anglatzia Nicosia 1016
Tel 22 347720