NGO charitable foundation for those in of socio-economic aid
The mission of KEPAKY is to give a helping hand to people in need and to promote the values of solidarity, love, giving and volunteering. KEPAKY aims at improving in practice the quality of life of people in need, and especially of young people, for them to find their position in society.
This is achieved through the promotion of equal opportunities and human rights, social inclusion of marginalised people and people with disabilities, educational opportunities and study aids for young people, psychological support to students, development of social and environmental consciousness, aid to people with autism and their families, campaigns against bullying and addictive substances and the provision of essentials to people in need.
KEPAKY's activities aim at creating a change of consciousness. It envisions a society, in which chains of solidarity are developed, where the recipient of the love and attention is transformed at some point into a donor.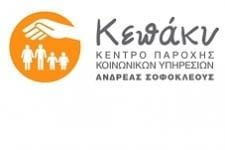 155 Makarios Avenue
Limassol 3026
Tel 25849128