I have recently been mulling over the topic of vegetarianism quite a bit, considering it both for myself and for my family, and whenever Kat and I get together, we often speak about the pros and cons of dropping meat, chicken and fish from our family meals.
So when we heard that the wonderful restaurant 'Sailor's Rest' at Limassol's St Raphael Resort & Marina had a festive vegan and vegetarian menu on offer for the holiday season, we were both delighted to go and try it out.
On the evening we went to Sailor's Rest we were very warmly welcomed by the team and given the choice between a beautiful round table near the bar, and a cozy square table by the window further into the restaurant. The décor has just undergone a redesign process and the seating area is revived with fresh colour and comfy seats. The outside area looked awesome too, and we made a mental note to return and try their brunch option on a sunny winter's day.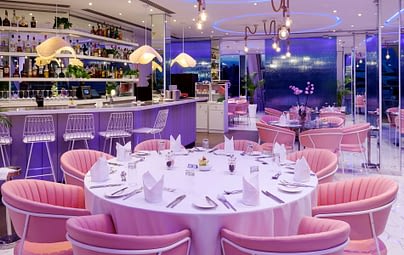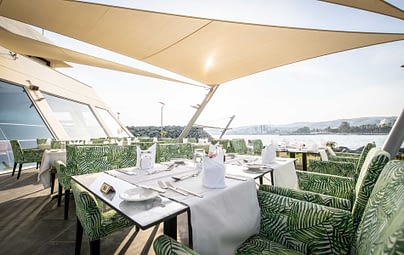 We opted for a small round table, sat back, relaxed and went with the menu recommendations that we were offered. The amuse bouche opened our palate, and from then on we went on to enjoy course after course of very tasty, beautifully presented dishes totally suited to our taste. We had amazingly tasty Sushi, impressively served on a gorgeous stone platter. Looking now at the photograph we took last week, I have to admit that it doesn't do the meal full justice, but it truly was among the most original and great tasting Sushi we've had in a long time.
That course was followed by a steaming hot (in temperature) and most aromatic Vegetable Curry. Now there's a reason to go vegan, what a yummy dish! This was followed by a succulent salmon filet served on wild rice and steamed vegetables…and then we had to surrender when deserts were announced. No way!!
We simply had to pass. Lovingly prepared generous portions were to blame! We had a coffee instead. Since we had finished our wine (we still had to drive…) we were happy to just sit and chat. The restaurant offered such a relaxing vibe, it was hard to not want to simply be in the moment.
Conscious of the fact that we hadn't really been true to our vegtarian/vegan experiment that evening, we dived into the menus and studied the multitude of options available to the more devoted fans of meat-free diets. We're most happy to report that we found a very large variety of starters, main courses and deserts for the vegan-at-heart, and concluded that you simply can't go wrong with Sailor's Rest!
Their choice of dishes is truly varied and rich in options. There's a vegan menu for Christmas Eve and Christmas Day, as well as for New Year's Eve and New Year's Day. How can you not enjoy such great choices on offer, especially since the vegan and vegetarian creations are also available in the everyday dining menu! You can have a preview by clicking here , and experience them out of the festive season too. The most attentive, knowledgeable and friendly staff at Sailor's Rest will guide you with their recommendations, also with regards to the drinks. Their chosen house wine was great pairing with our food.
Then again, it's no wonder the team at St. Raphael is so good at what they do. After all, it was them who introduced Seashells, Limassol's first dedicated fully vegan hotel and beach restaurant. Seashells serves nutrient rich, healthy plant based, whole food to the backdrop of stunning sea views…even non vegans love it! Too bad Seashells is closed for winter. We'll be back…
For now though, Kat and I wish you a wonderful festive season – vegan, vegetarian, carnivore or omnivore!
See you in 2020! Cheers 🥂