Summer is fast approaching and many of you have most likely already taken your first trip to the beach. You've probably got a favourite spot that you like to go – one close to home (if you're lucky enough to live near the sea) or at least not so far to trek during the mid-week busyness of work, school and afternoon runs.
However, weekends and the soon-to-arrive summer holidays offer a great chance to go a bit further afield and explore the wide range of beaches across the island, so we thought we'd give you a little bit of inspiration to try out some new spots that you may not have been to before or perhaps not even heard of!
The coastline of Cyprus varies greatly, from the tropical, golden stretches in the East, to the cliff-edged bays and wide open pebbled stretches of the South, leading to the rocky, rugged and deeper waters of the West. For the most popular beaches, you can easily find information elsewhere online of what they look like and where to find them, so we decided to pick out a few beaches per area that are a bit off the beaten track and that we have been to and loved, or know from word-of-mouth to be good. Of course, everyone wants something a little bit different from their beaches, so we've tried to include something for everyone, from more organised beaches with a full range of facilities to those that take a little more effort to find and set-up for the day with your own shades and refreshments. If you've got a fave spot that we haven't listed below, make sure to comment below so that you can share it with the rest of the MiC community!
Famagusta Area
Ayia Napa is famous world-wide for its vibrant club-scene and its crystal-clear, turquoise waters and golden sands… it truly is paradise-like and for this reason, it tends to get really packed in the Summer! Nissi beach is a great example, it is very beautiful and you should definitely try it out, but it also tends to get a bit chaotic, with loud beach bars and a lot of visitors during the summer months. You might prefer to head to neighbouring Protaras, which can still get really busy at weekends, but is less hectic and bound to be quieter during the week.
Fig Tree Bay and Makronissos are firm favourites among families, but there are also other places in the area that are definitely worth seeking out.
One of our favourite spots to swim – further down the Cavo Greko (Cape Greco) road and at the base of well-known hotel, Grecian Park… two beautiful coves nestled at the base of fir-tree-filled Cape Greco National Park. A snorkeler's paradise, with gentle water sports on offer for those that want to try one (without the loud pumping music and with respect for the bathers and swimmers in the area). Great for starfish and crab spotting in the shallow, almost wave-free waters.
There is parking all the way down the hill to the beach bar (which serves all day and has toilets, changing facilities and showers), but you will have to walk down (and back up) a gentle paved slope to get to the beach. During peak season, this beach can get packed, so avoid Weekends or make sure to get there early so as to grab a close parking spot and not have to walk the entire hill down as it is pretty steep! Make sure to go to Cape Greco afterwards at sunset to take a picture by the chapel, watch the daring cliff-divers and explore the sea caves below.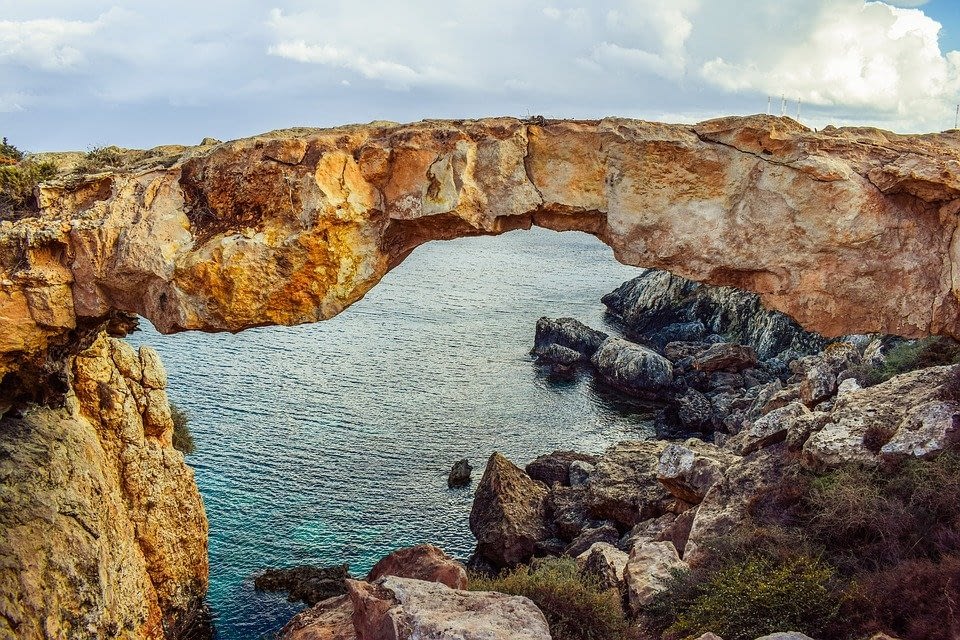 Sirena and Vrysaki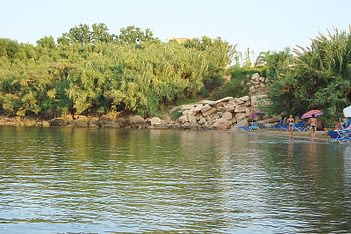 It's pretty hard to find a beach in Protaras that isn't busy in the summer, but there are definitely a few that are less so, particularly if you go mid-week before the young crowds arrive for the weekend from Nicosia. Sirena and Vryzaki Bays in Protaras are both lovely and aren't frequented so much by the hoards of tourists that arrive in the area in the summer.
Sirena Bay (Pernera) has a cute little traditional taverna under the shade of the trees right next to the beach though we have heard rumours recently that the municipality has been making changes to this area so you'll have to check it out for yourselves as we haven't been in a while. Vrysaki (or, Vrissaki – off the main road from Ayia Napa to Protaras) has two areas – a municipal bay with umbrellas and beach beds and an unorganized bay for you to set-up for the day and relax in your own style.
Situated between Ayia Thekla and Larnaca is a lovely spot called Potamos Liopetriou – a picturesque little estuary lined on both sides with traditional wooden fishing boats. You definitely would not be swimming here but it's a great spot to have a sunset walk, a drink and a fish dinner in cute surroundings.
Larnaca Area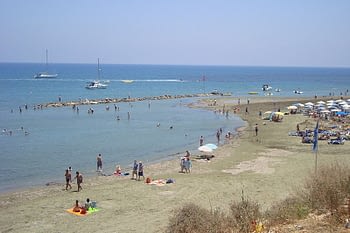 If you've been to the popular Phinikoudes (Foinikoudes) Beach and are tired of the mad crowds at Mckenzie, then try Faros beach next time you're in Larnaca. Faros is a huge stretch of sand, between Meneou and Pervolia and is a good option for those of you with very little ones as the water is shallow for miles, meaning you can relax knowing that your non-swimmer can splash around safely within their depth. Easily accessible and with the usual facilities, there are quieter areas, away from the crowds that don't get so busy even in the Summer. Alaminos and Secret Paradise Beach on the other side of the cape have sea barriers, so they're also safe for your little ones to play freely without fear of being crashed by the waves. The usual facilities are there but apparently you have to take a track off the main road to get there.
Paphos Area
You'll notice that this section is particularly long… mostly due to our personal experience of these beaches but also because the Paphos region (which includes the breathtaking Akamas peninsula, stretching from Peyia on its south side to Latchi, Polis, Pomos and Pyrgos on its North)… with the most 'Mediterranean' of all landscapes in Cyprus; rugged cliffs and gorges; heathered, wooded headlands; an ancient mythical past – has some of the least touristy but most beautiful beaches on the island. Make sure to take notice of any warning signs on the Paphos beaches where you can't find any locals swimming, as these spots can have strong currents.
Coral Bay and the surrounding coves, are some of the most popular beaches in the Paphos area – a nice sheltered sandy beach with shallow waters, as opposed to a lot of other swimming areas in Paphos which can be pebbly with deep, though extremely clean, waters.
A popular area for locals in central Paphos is the SODAP beach which is sandy and pretty shallow. There is a municipal parking at SODAP – beach bar, showers, lifeguard and toilets and sometimes in the Summer they set-up an open air cinema there at night.
'Bania', at the other end of the promenade to the castle (before the hotel stretch starts) is also a popular place with locals who want a quick dip but it is not suitable for those of you with little ones as you have to dive straight in to deep water from the edge.
Geroskipou beach, though pebbly and deeper is another popular spot with locals, away from the hotel crowds.
Spilies (Sea Caves), Peyia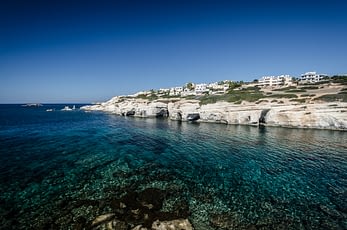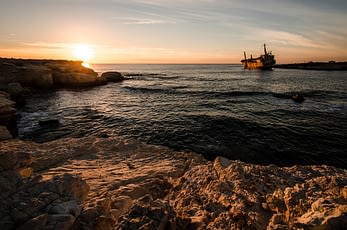 If you're heading in to this area to see the amazing sea cave formations, you can also find remote little coves that may not have any people in them at all. Best if you have a sturdier car (or a 4×4) as you'll be going off the main road and you'll definitely want to bring along your own provisions (sunshade, sunscreen and food/water) but your older kids will love having their own secret cove for the day. As with many beaches in Paphos, water/beach shoes are recommended. Look out for signs for 'Oniro by the Sea' – you won't be disappointed!
Pomos and Pyrgos
By way of how far these places are from anywhere – reaching all the way up to the Green Line on the Paphos side – they don't tend to get very busy at all in the summer. Plus, accommodation options can be a lot more reasonable during peak months. This western coast is wild and rugged – with amazing scenery of rock formations, red cliffs, secret coves and wide stretches of untamed beaches. Being on the West coast, they're great to stay on until the sun goes down and they're not so remote as to not have provisions on hand by way of restaurants and kiosks. Make sure to check out the lovely little port at Pomos – great for a weekend getaway and reminiscent of a time gone past that is hard to find elsewhere these days. Pomos also hosts the annual Jazz festival, with free camping on site, another great excuse to visit the area.
Latchi and Polis
The entire Polis – Latchi strip is popular in the summer but tends to be less crowded than other areas closer to Paphos town. Latchi is a great place for a weekend getaway, with numerous accommodation options on the coast or higher up in the hills where it is cooler. A fantastic area to explore by foot or car, it's worth checking out even if you live on the other side of the island.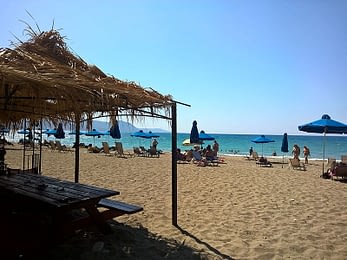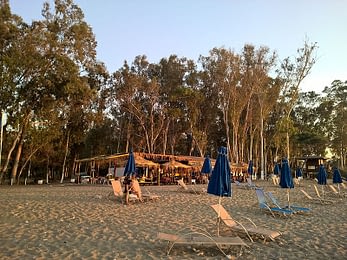 The beach at this campsite can get busy at weekends during the summer but it is a great spot to camp midweek – just off the beach, within the shade of a large Eucalyptus grove (perfect for keeping the mozzies away!), with a bar-restaurant right on the beach serving breakfast, lunch and dinner at reasonable prices if you want to keep your camping trip simple. Be warned, the water gets very deep here and there are large rocks and pebbles to scramble over before you get to the water, but it is has got to be one of the most refreshing dives you can take in the August heat!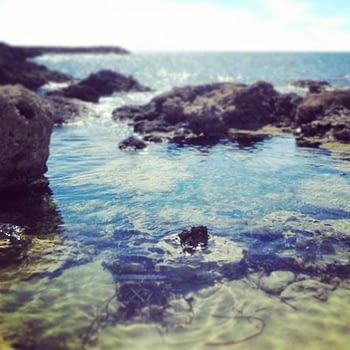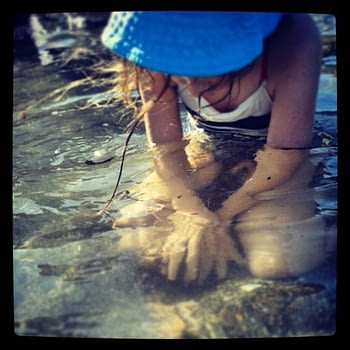 A beautiful area, steeped in myths surrounding the fabled bathing pool of the Goddess of love (which you're unfortunately not allowed to enter)… it's a great place to explore with the family and there's a hiking route for those that can brave it during the heat of the summer. To get to the narrow pebbled beach, you have to walk down some steep steps from the tavern above, but the kids always enjoy it there, with its pebbles, nooks, crannies and rocks to climb on and over.
Blue Lagoon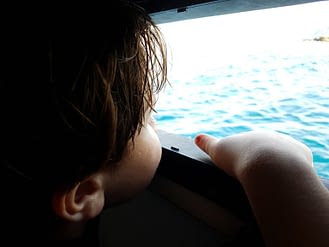 If you have never taken a boat trip from Latchi harbor to the Blue Lagoon… make sure to put it high up on your Cyprus bucket-list for this summer! Pretty much inaccessible by road unless you have a 4×4 and some serious nerves, a boat trip is the only way to get there. There are various options for day trips and it's best to book in advance during peak season/weekends – there are half-day and full-day cruises, party boats and those that offer you a souvlaki dinner on board. There are glass-bottomed boats and sunset cruises. Whichever one you take, they'll all end up at the Blue Lagoon, where they drop anchor and give you a set amount of time to jump in to the water and swim around in paradise for a while. The water is crystal clear and warm in summer… our kids have been begging to go back since our trip out there last summer! You can get on and off the boat at your will and most cruises offer refreshments and fruit of some sort if you haven't chosen a trip that includes lunch/dinner (though be warned, you'll be pretty jealous when you smell the charcoal smoke drifting over to you from the other boats when you've worked up an appetite from all that swimming!). Latchi harbor on your return offers numerous options for a fish meze! If you have little ones or non-swimmers, make sure to take some sort of flotation device so that you can swim easily in the waters without having to hold them.
Lara Bay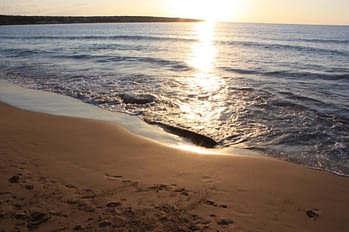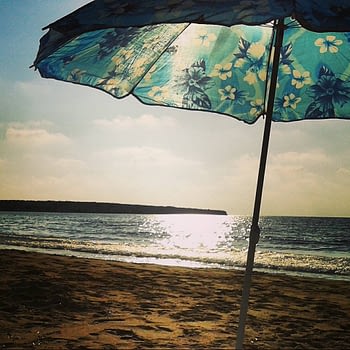 This section wouldn't be complete without Lara bay! Famous for its staggering beauty – its dune-backed beaches and gorgeous sunsets – this area is the protected nesting site of the Green and Loggerhead (Caretta Caretta) turtles. There is a small Lara Bay Conservation Station with educational material for the kids and information on how to use the beach responsibly, along with some of the baby turtles in tanks so people can learn more about these endangered species. If you go down to this beach, you'll need to be careful of the many protected turtle nests there and they prefer people not to use umbrellas in case there is a hidden turtle nest beneath the sand. You are also asked to leave before sunset, so as not to disturb any hatching baby turtles. Unless of course you have arranged to join one of the conservation groups and take part in a midnight-session with the team who make sure all the baby hatchlings get to the water okay!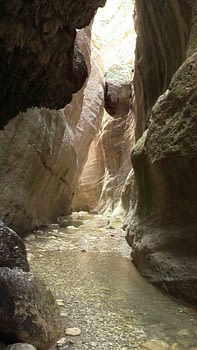 There are no facilities here at all so you must bring your own everything and make sure to stay away during the hottest part of the day, as there is little or no natural shade. You will also need to walk down some steps to the beach from the carparks above; a doddle for older kids but it's advisable to bring a sling if you have a little one!
The great thing about the Akamas peninsular is that if it is windy on the South side, you can go to the North and vice versa. But be careful when it is windy at Lara, the waves can be pretty ferocious and there are some strong tides, so be careful if you're unlucky to go on a windy day.
If you can bear to do it in the heat of the summer, the Avakas Gorge Nature Trail in the area is an amazing place to walk with the kids. You'll need to drive carefully to Lara, as it is dirt track all the way. Any car can do it if you're careful, just expect to have a lot of dust to wash off the next day!
Limassol
Limassol has so many beaches that it is hard to pick out a few. The sand might be a little 'volcanic' and not as tropical as the Famagusta region or as clean and cold as the beaches in Paphos, but there are so many options that you could spend the entire summer visiting a different spot each trip and probably not see them all.
Most locals swim along the Molos and its extension during the week, as it is convenient within the central area of Limassol, with its many parking areas, cafes, restaurants and numerous facilities. GSO area (close to the Limassol zoo) is a popular spot, as is Dasoudi Beach with its restaurants and playgrounds, the warm and shallow waters at Pareklissia Community Beach (Malindi) next to the St Raphael Marina and the newest hip and trendy spot of Columbia beach.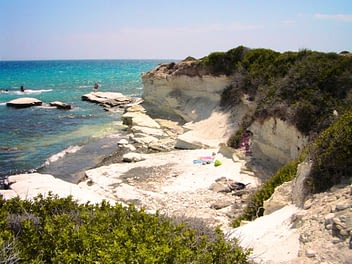 To the east end of Limassol, practically on the edge of the border with Larnaca, stretch the white rocks and dramatic cliff-edged coastline from Agios Georgios Alamanou to Governors. Governors Beach is in fact many different bays (and everyone has their own favourite) – some are a lot more organised with grass and restaurants, others have caves and coves to explore and discover but all have access to facilities and cafes/restaurants of varying quality.
If you arrive early during the summer and you're lucky, you can grab yourself a cove (you may have to wade through a little knee deep water to get to one). With the chalk cliffs behind you, you have guaranteed shade all day long – so with a picnic hamper and drinks, you can stay put the whole day long!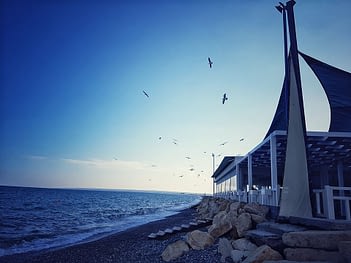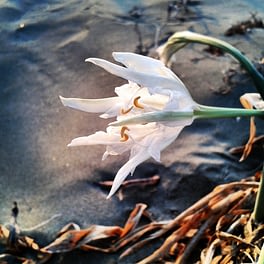 On the West side of Limassol, close to My Mall, is the sand-duned Lady's Mile stretch along the salt-lake (great for nature watching and flamingo-spotting in autumn and spring… in the summer, get the kids to try to hunt down the native Famagusta Lilies hidden amongst the sand dunes!). There are numerous cafes and restaurants along the wide bay and again, each person has their favourite – some of the restaurants have inflatables in the water during the summer months for older kids and some have little playgrounds on the beach.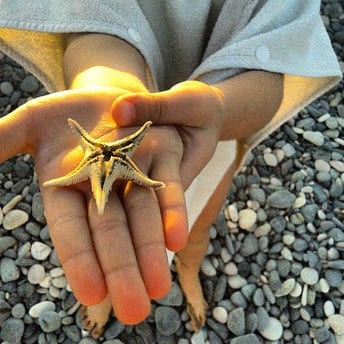 You can also just park your car in any of the little gaps in the sand dunes along the way if you prefer something a little less organised and set up anywhere along that huge stretch of coast. There are some great walks in the area also, close to the salt lake (in the surrounding forests and on the other side of the bay in Akrotiri)… and on the moonscape of the salt lake itself but take your mosquito repellent if you're planning to stay until sundown and do not, DO NOT, attempt to drive across the saltlake in your car. Trust us on that one. Just to note: while the road along Lady's Mile is relatively well kept, there can be some potholes, so drive carefully! And make sure to check out the observation post on your way out to see if you can spot any Spoonbills amongst the reeds!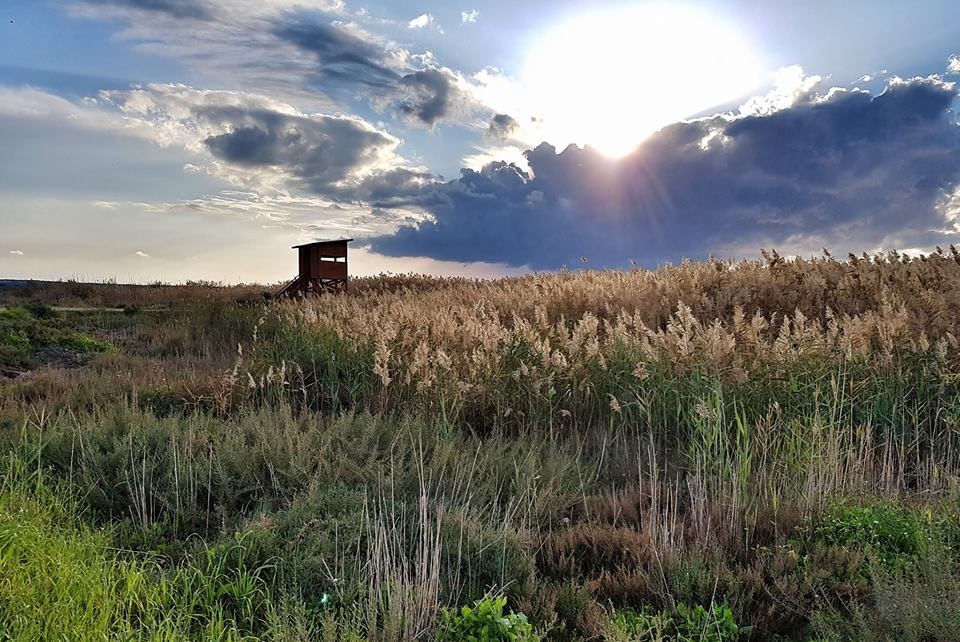 Kourion to Zapalo to Paramali to Avdimou to Melanda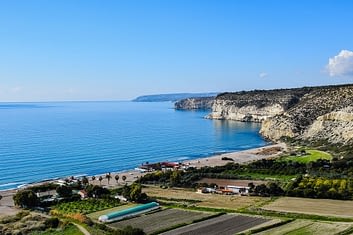 These beaches, famed for their high winds and rough waves are perfect for kitesurfing. Kourion is a great beach for pebble-collecting and horse-riding – and has the stunning amphitheatre above, with its mosaics and breathtaking views down across the bay. If you haven't yet watched a theatre performance or concert there during the summer, make the effort to book tickets this year – there's no better location on the island for an evening performance!

One of the best kept secrets in the Limassol region is Zapalo (also known as Trypiti) is really worth the trip down there – we have been in August and not met a single other person for an entire day! You'll need a 4×4 (or at least a car that goes in to low gear) and some nerves of steel to get down there (and back up again)! You can walk down but it'll take you a good 15-20 minutes and you wouldn't want to be doing that in the heat of the day. It really is truly magical down there – with a few little fishing boats, little 'swimming pools' and the majestic sandstone cliffs that surround the bay have falcons nesting and swooping around at sundown. Being so remote, there are absolutely no facilities, so this beach is only for the most adventurous among you. Be sure to take enough shade and food/water to last you for the day.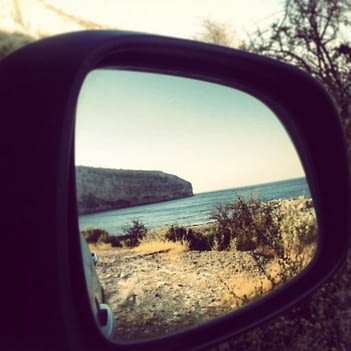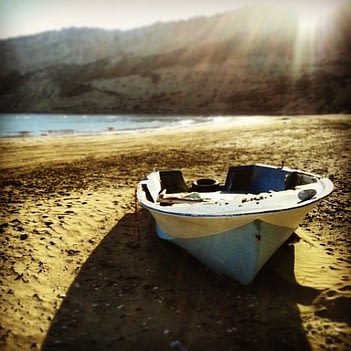 To get to Zapalo, follow the old Limassol – Paphos road (B6) through the British Bases area. About 250m after passing the Sanctuary of Apollo Hylates on your right (a lovely spot if you haven't been there already – check it out!), turn left – there are various warning signs about not going too close to the crumbling cliff edge (that means you're in the right spot)! There are no name signs for this beach and it is hidden by the steep cliffs but you'll know you're in the right place if you can see the ancient walls beneath the sea, remnants of the old Roman fishing port that still remain and create small warm pools to swim in.
We found this one completely by accident once on a drive through the winding lanes surrounded by fields after a day at Avdimou beach. A cute little bay with a small tavern, changing rooms and toilets, it generally is only visited by people who live in the area and so doesn't get too busy. The drive through the hay bale-stacked fields during summer is worth the extra effort to get there, as are the waters that are quieter and shallower and there are better facilities than neighbouring Avdimou bay.
Well… we think that is more than enough inspiration to get you started! We're always on the lookout for new swimming spots and hidden coves and beaches, so we'll be updating this post as and when. If you have a favourite beach that is not listed here, please share it with us in a comment below or send us an email and we'll add it to this post so that we can share it with the rest of the community! Enjoy!