I have to admit that Clean Monday (or, as I prefer to call it – Green Monday) is one of my favourite national holidays here in Cyprus.
Clean Monday (Καθαρά Δευτέρα in Greek) marks the start of Lent and an end to the excessive feasting and party-days of Carnival. Lent is the 40-day fasting period before Easter (the English equivalent is Pancake Day). According to Greek Orthodox principles, these 40 days of fasting are meant to purify the body and spirit and to rededicate oneself to a more righteous way of living. Not everyone fasts nowadays other than the more devout (or health-conscious) but almost everyone seems to stick to the fasting rules for at least the Clean Monday picnic, if not the entire day.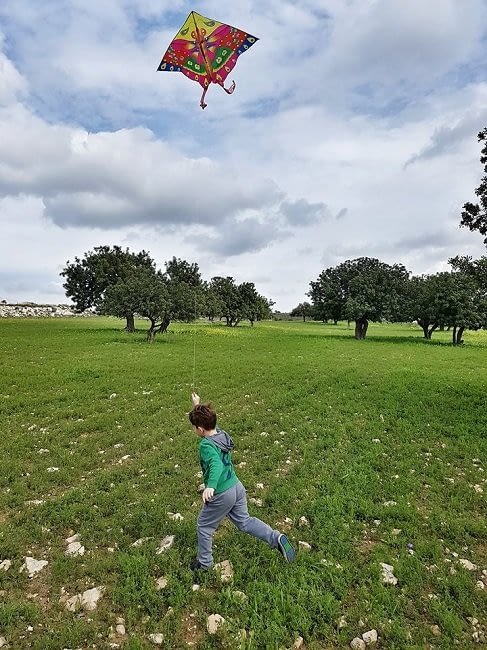 To celebrate this start of Lent, families traditionally take to the beach or the fields for the open-air eating of greens and vegetables, shellfish, halva and an unleavened bread called 'lagana'. Eating meat, fish and dairy is forbidden. It's also the widespread custom to fly kites. Why kites you may ask? Apparently, flying kites is symbolic of the resurrection. Others say it represents the human psyche trying to reach God (as part of the spiritual 'cleansing' of souls before Easter). Maybe it's simply because kite-flying goes particularly well with picnics and windy Spring days. Either way, it's fun! 😊
Clean Monday is a special day in my family's calendar. Even if there are other days that we will fly kites, have picnics and be outdoors, on Clean Monday we know that we are guaranteed to be heading out to the fields to find wild flowers to identify and photograph… We will definitely take a hike and stop for a picnic (a fasting one, for just that day 😊) and we will definitely fly (or at least try to fly!) a kite!
I am not Greek Orthodox, nor religious, but I do think there is something special about taking part in some of the rites and traditions of whatever part of the world you happen to find yourself in. Rituals are important to mark those special breaks out of the routine and the ordinary. Family traditions (cultural, religious or personal ones) are special times for a family to come together and to connect over a shared experience. Taking part in these rituals is the stuff that treasured memories are made of… Traditions are one of the ways through which we can create magic.
Easter here, even more so than Christmas, has a lot of opportunity for experiencing (observing and/or taking part in) those traditions that can be hard to separate the religious aspects from the pagan, such as the wearing of Marti bracelets through the month of March, or Tsiknopempti (the start of the excessive feasting period of Carnival) that just passed last week. My kids absolutely adore Mass on the eve before Easter – standing in the open courtyard of the church and everyone sharing the 'light' from candle to candle until the glow spreads across the crowd. I think they even love Easter more than Christmas, because of the rituals surrounding it here.
Maybe it's also the chocolate they get, but I like to think that it is the clean air, sunshine, green and those very special memories we make year after year, trying to fly a kite, lying in fields of wildflowers, picking fresh almonds from the trees and dipping them in salt and forgetting about anything else for a while other than the large, blue open skies above us, the start of Spring and the real start of a New Year before us…
So, however you spend your Clean Monday, I hope it is fun, involves wide open spaces or at least the outdoors, and takes you on a journey to discover one of the many beautiful natural spots that Cyprus has to offer. And, for your sake, I secretly wish that it also involves flying a kite x