Congratulations on the birth of your baby! If your daughter or son was born some days ago on Monday, they will forever share their birthday with Meghan and Harry's firstborn… and with George Clooney, too! Ok, that's the trivia out of the way, since we cannot escape the headlines this week 🙂
Jokes aside, breastfeeding is probably a big issue in your house right now. Hopefully you are managing well and enjoying this magical, bonding time with your new-born. Maybe you have even been wondering whether you will need a breast pump at some point? If you are intending to exclusively breastfeed your child, a pump and good quality storage bags for your breastmilk can be extremely useful tools.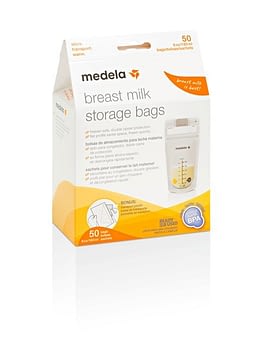 Apart from the benefit it brings by stimulating milk production and keeping up supply, a pump allows other family members to bond with the baby over feeding sessions, as they can give your breastmilk via a bottle. Super useful, especially if you need to return to work after your maternity leave.
Pumping can also address the most common breastfeeding issues new mums can face, such as an engorged breast or the baby not latching on properly. Either way, many mothers view a good pump as an essential accessory.
As with our most recent Product of the week the NUBY Weaning Net Nibbler, we have asked our MiC Testing Team to review the Medela Swing Pump and Breast Milk Storage Bags for you.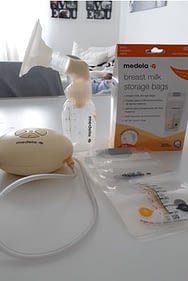 Georgia told us that as far as the Swing was concerned, 'It's a 10! I wouldn't change it for anything!' With its little motor, the pump can either be used with a plug or the batteries, making it fit perfectly into your bag. The technology used actually imitates baby's sucking behaviour and rhythm, so it feels natural to use and not awkward. Georgia added 'also, something extra, as far as the customer service of Marathon Training, I must say they are always very kind and polite and willing to help as much as they can.'
In addition to the bottle that comes with the pump, Georgia also used the Medela Breast Milk Storage Bags. She particularly liked the 'high quality material and that you can write important details onto the bag' and 'the innovative idea of creating a bag that you can store milk in the fridge or freezer with and be able to warm it up later on.'
Another happy MiC Tester is Erasmia. She was delighted about 'the big box with 50bags!!!' She found them to be 'easy seal bags. They open easyly and pouring was easy as well. It's a must when breastfeeding your child…breast milk is the best for our babies, so storing it is a must too, so that we are able to use it when someone else from the family needs to feed the baby'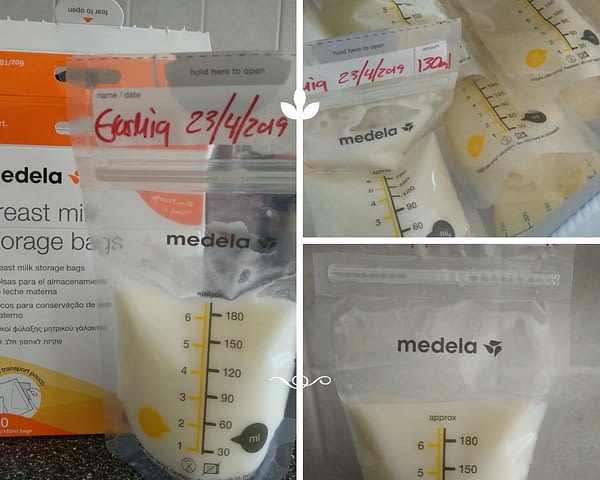 Desi's experience was also very positive. She strongly recommends the milk storage bags: 'As a first-time mum I didn't know a lot about breastfeeding. The long history of Medela actually made me trust their products. I like that the bag can stand by itself (very useful because you need to work with one hand). The label is easy to write on with any pen, you don't need markers. The content amount indicators are more specific than other brands I have used. I like that you can write the quantity on the label. Very useful! The way that the bag is closed, which stops it from leaking, makes it east to store in a horizontal position.' Desi added 'I found it very useful to have stored milk for the period when I was sick, as well as for midnight feeding. And I feel better to store it in bags than bottles.'
So there you have it, happy mamas all around!
Thanks to the wonderful team at Marathon Trading, we will be offering you a chance to win these amazing breastfeeding savers next week in our next #WednesdayWin.
Yes, there will be a Medela Swing Pump worth €199 up for grabs, as well as three packs of Medela Breast Milk Storage Bags worth €19.90 each!! Really.
Stay tuned.