Time for a new #WednesdayWin!
Have you ever received a present so unique and unusual, it made you think 'I am totally going to buy that for all my friends!!'?
A present that makes you smile, makes you think, makes you talk about with your kids?
A present that's hand-made, created with love, right here in Cyprus?
Well, a very sweet friend recently gave me such an amazing present for my milestone birthday, and I enjoy it every day.
Meet the gift that keeps on giving: '365 Days of Positivity', or, as I call it 'The Happiness Jar'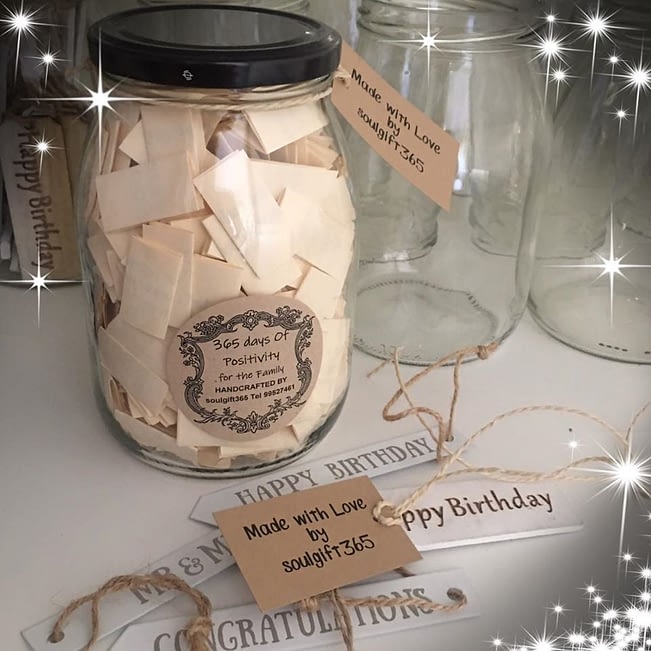 It is filled to the brim with inspirational quotes, a daily dose of motivation or quite simply, a smile. Handcrafted by Soulgift365, this jar is  suitable for any occasion, be it birthdays, weddings, christenings, namedays, or just as a gift to yourself 😊
The lovely Maria Constantinou, creator of the happiness jar, has recently added a family version with quotes more suitable for children. Taken from Disney movies, much loved children's books or rhymes, these are words of wisdom that the little ones can recognise.
…and because we just love original ideas and support entrepreneurial women, we are delighted to be offering you the chance to win your very own 365 Days of Positivity jar! We have two of these amazing presents up for grabs: one Original version and one Family version.
How can I win this amazing prize?
To enter the competition, simply email: carine@mumsincyprus.com with "365 Days of Positivity" in the subject line.
Please also provide us with:
Your full name
The town you reside in (in Cyprus)
Your mobile telephone number
Your preference for the Original or Family version (though availability cannot be guaranteed)
THE COMPETITION WILL CLOSE ON TUESDAY, DECEMBER 3 2019 AT 17:00!
The winner will be drawn and announced on or after Wednesday December 4th.
If you don't want to wait until then and prefer to get your hands on a 365 Days of Positivity jar sooner, you can order one directly from Soulgift365 here.
Good luck 
p.s. you're welcome!