Cyprus Association "One Dream One Wish" (make a wish) for cancer-afflicted children
The Association was founded in 1997 by a group of parents of children suffering from cancer, leukaemia and other blood diseases. It focuses its activities on three main pillars: the fulfilment of the best wishes of the cancer-afflicted children, the economic support of their families and the psychological support of the children and members of their immediate environment.
Naturally parents give emphasis on the children's treatment. On many occasions, because of the expensive treatments abroad and loss of job, families are not in a position to respond to a wish expressed by their children.
The Charity has been founded to fill this gap: to provide life incentives for the children. The fulfilment of a wish, such as the acquisition of a personal computer, a home theatre, a musical instrument, furnishing a bedroom or a trip to Euro Disney in Paris or elsewhere, is part of the Association's project to psychologically help the cancer-affected children, a fundamental component of their therapy. Researchers have discovered that ailing children living in a happy environment and being treated as equals by the society have more chances to be cured than others.
Pain has no boundaries and does not recognise skin colour, religion or ethnicity. The Association has fulfilled scores of wishes of Greek Cypriot and Turkish Cypriot cancer-affected children. Other beneficiaries come from the Maronite and Armenian groups, mixed marriages of Cypriots with foreigners or aliens living in the island.
The Association's revenues come from membership fees and donations. It often launches fundraising campaigns and organises various events to collect money.
Part of its programme is to invite sponsors and other friends, who have helped the Charity through various means, to accompany Board members when a child's wish is being fulfilled. Present also are popular football players, actors or singers offering gifts and autographs to the young fans, creating a unique atmosphere.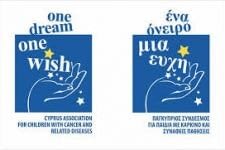 Tel 22311277