International Parental Child Abduction Assistance
Pegasus Child Recovery are specialists in International Parental Child Abduction cases and they pride themselves on their expertise, professionalism and ability to obtain results. They operate internationally to resolve all parental abduction cases, and have specialist operatives that can deploy at short notice for the recovery of a child or children.
They also offer legal support to assist in obtaining a return order in the country of origin which will assist in any legal action in the country to which they have been abducted, this includes working with highly experienced International lawyers.
Sadly, parental abductions are on the increase each year. The worst times for a Parental Abduction to occur is during the summer holidays and Christmas.
Many cases go unreported as the left behind parent are unsure of what they can do. Other left behind parents engage a lawyer who make promises that they can return the child to their habitual residence but fail to do so.
The Hague Convention on the Civil Aspects of International Child Abduction was created to assist in the recovery of parentally abducted children and return to their place of habitual place of residence. However, in the majority of Hague cases they fail. The Hague Convention is only an agreement and has no legal standing.
The very reason Pegasus Child Recovery was created, is to help the left behind parents who have not had their child or children returned.
Pegasus operatives have spent the majority of their professional careers working in multiple arduous environments, in various fields of security and investigations around the world.  Their expertise and professionalism is second to none. A child or children's welfare and safety is a top priority to Pegasus and our specialists,  this includes after care assistance with a range of child or family services to help overcome the trauma of abduction.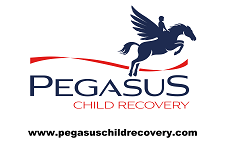 Tel 97761481