Quick & Easy mid-week lunches & dinners for us busy Mamas – because who needs to make life more complicated?
If you're anything like me, you're always on the search for easy mid-week lunches and dinners that provide a balanced meal with a minimum of fuss.
I make a lot of wrap-based food for my kids. It's quick, simple and they like the process of picking their own ingredients and preparing their food the way they like it. I always find that the more that the kids are involved in the food choice/making process, the more likely they are to eat it! Fajitas, such as these ones here, are a regular in our house, as are tacos (wrapped in lettuce leaves or made in to a salad for myself)… they provide a good balance of carbs, protein and plenty of greens and veg.
My kids love sushi and request it often but it's expensive to buy in other than a rare treat and not something that I've managed to master myself and besides – it takes wayyy too much time to make on a regular basis. Plus, I'm be a bit nervous about sourcing sushi-grade fish myself and possess no knowledge (yet!) of how to cut it correctly.
So, I came up with the idea for the kids to make their own sushi hand-rolls and they love it! It's takes very little prep and there are never any left-overs (which isn't always a good thing to be honest! :-)).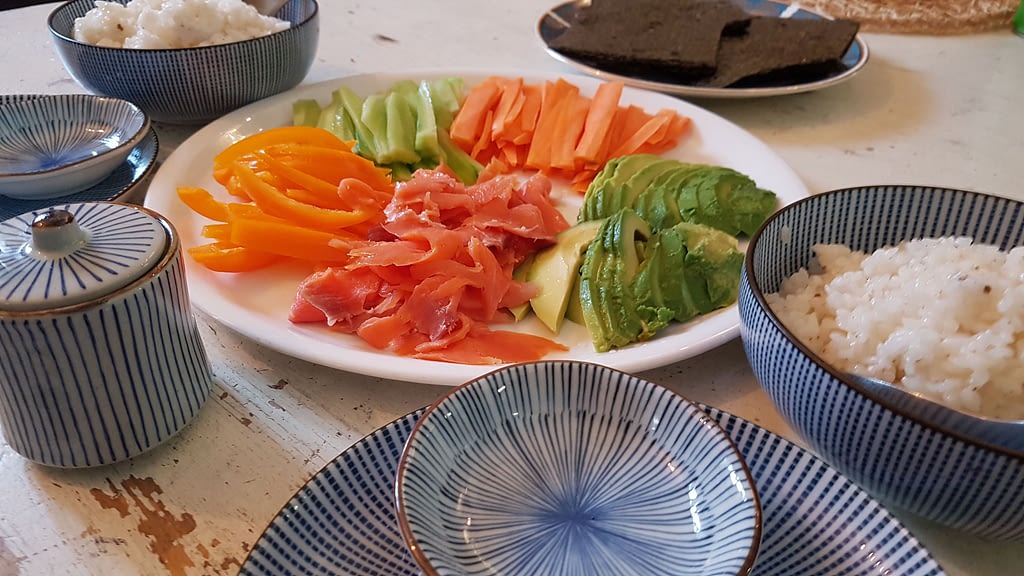 Ingredients
Sushi Rice – brown, if you can get it
Sushi Seasoning (or rice vinegar, salt & sugar)
Sushi Nori (seaweed sheets) cut up in to quarters
Smoked Salmon/Trout or cooked fish/meat (e.g., salmon or beef) – sliced in to thin strips
Very thinly sliced veg (e.g., carrots, cucumber, peppers, avocado, lettuce etc)
Low-salt soya sauce, shoyu sauce or tamari to serve
Method
Make your sushi rice per package instructions. This usually involves rinsing your sushi rice a few times until the water runs clear and for brown rice, leaving it to soak a while which will reduce its cooking time. For best results, once you've taken the pan off the heat, leave the lid on and cover the pan with a clean tea-towel for half an hour to let the rice rest and soak up all the remaining water/steam. There's not much to do while the rice is cooking and resting afterwards, other than slice a few veg, so you can easily get on with other things while this dish prepares itself! If you've never made sushi rice before, you can find instructions online for rice/water ratios and cooking times. I sometimes cook my rice with coconut (milk or oil) because my kids prefer it that way.
Once ready, season your rice and serve. You don't have to go all fancy – just give the kids the Nori sheets and a plate of fillings and let them roll away. Get them to try making a little parcel (by folding in the sides and then the ends); a cone or just a cylinder. The rice is sticky and with a just a few bits of filling, there isn't much to fall out of either end. My kids like a different mix of fillings; salmon & avocado or just raw veg. The possibilities are wide, and the kids always find it a novelty. The recipe is easily adaptable for children as young as toddlers all the way up to teenagers/adults. These hand-rolls would also make a great packed-lunch snack provided you had a way to keep it cool to save the rice/fish from spoiling!
We hope you enjoy it as much as we do!
Do you make something similar at home? Share your favourite recipes below and #sharethelove ❤