We haven't done an #AsktheExpert for a while but after meeting Belina Louvrou at a recent event, we decided it was high time to do another interview! Belina is a Child & Adolescent Psychotherapist MBACP, specialising in Play Therapy who has recently established a Play Therapy & Parenting Support centre in Limassol.
Belina, welcome. Play Therapy is a relatively new concept to Cyprus. Could you please tell us a bit more about what Play Therapy is?
Play Therapy is a form of psychotherapy for children and adolescents and it is based upon the fact that play is the child's natural medium of self-expression. As adults, when we have worries or experience a tough time we usually use words to express ourselves and make sense of our situation for children, it is often much easier to use the language of play. The play therapy toolkit includes art, clay, music, sand tray, movement, therapeutic storytelling, puppets, drama and role-play.
What are the benefits of Play Therapy and how can it be more suitable than other types of therapy for children?
Play Therapy is more suitable than other types of therapy because it uses play which is the natural medium of communication and expression for children. There is a reason why children spend so much time playing: play is the way that children learn and develop, understand the world around them and express their feelings. Through Play Therapy children are able to:
Process emotions that they may not be able to express in other ways.
Develop independence and creative thinking
Improve their social skills and the ability to respect others
Create stronger relationships with family members.
Present a decrease in undesirable behaviours and increased capacity to regulate their own behaviour
What ages is Play Therapy most suitable for?
Although many therapists suggest that Play Therapy is more suitable for children 3-12 years old it can also be used effectively with adolescents. With younger children play therapy is non-directive but with older children and adolescents it can be adjusted and be more directive to have better results.
How can Play Therapy help a child who is having difficulties?
Play Therapy can help children who are experiencing a range of social or emotional difficulties such as: anxiety, stress, phobias, parental and family separation, friendship difficulties, low self-confidence, mood swings or inappropriate emotional responses, communication and behavioural delays or difficulties, bereavement, trauma or abuse, autism or ADHD etc.
Children don't always have the language skills to convey what they are feeling in words, especially if they experience traumatic events at very young age. Instead they may express their pain in undesirable or mal-adaptive ways such as sever tantrums, excessive crying, becoming socially withdrawn or clingy, refusing to attend school. In Play Therapy, the therapist provides children with a more adaptive method of expressing  themselves, through the language of play. Play Therapy also helps children to develop skills that will allow them to manage their own behaviours.
The child is given opportunities to test limits in a safe environment, allowing them to increase the awareness of the consequences of their actions. For instance they may choose to destroy their clay creation but they will learn that once they do that they will no longer have it. Children often spend a big part of their day being told what to do and even though this is necessary children also need to learn to think for themselves. In Play Therapy the children lead and the therapist follows. They choose what happens in the room by selecting the activities that they participate in. Children have the opportunity to make choices for themselves in a supportive environment. The play therapy room is a non judgemental space where children can express themselves freely. Within the trusting relationship with the therapist, children have the opportunity to test out different aspects of social interactions with the therapist without the fear of being judged, or rejected or damaging the relationship. For instance a child may choose whether to cheat on a board game to check how the therapist will react and the therapist can explore this choice with the child.
What does Play Therapy involve? What would happen during a 'typical' Play Therapy session?
Play Therapy is mainly non-directive. When children come in to the play room, they choose what and how to play. The first time we meet, I explain to the children in age-appropriate language that they can play in any way they want to but we have one very important rule and that is that myself and the child and all the things in the room are safe and I explain further what safe means. Then I let them choose what they want to do. I follow their lead, participate in their play when invited, as well as providing observations and reflections that will help children to learn more about themselves and their world.  My role is to interact with them in a consistently warm, accepting and respectful way that will allow us to build a trusting relationship.
At the beginning of the session children also have a calendar in which they see when they are coming for Play Therapy. They also have their own 'special box' which I keep safe for them in they play room for as long as they come for therapy. In the box they put everything they create during our sessions. At our last session together the take the box with them but they can choose what they want to do with all their creations; if they want to keep them or not and what we should with them. Some children choose to keep everything others they want to keep only few things and then they decide what to do with the rest. Most of the time children are really looking forward to their last session because they can take their box with them and everything that they created during Play Therapy. It is something for them to remember our time together in the play room.
How long is Play Therapy needed?
Children usually receive a minimum of 12 sessions of individual Play Therapy, lasting 45 minutes each. Consistency is a vital part of the Play Therapy process. The sessions are held at the same time, in the same place each week. It's important to think carefully about when sessions will take place to ensure that the schedule can be maintained throughout. Research suggests that it takes an average of 20 play therapy sessions to resolve the problems of the typical child referred for treatment. Of course some children may improve much faster while more serious or ongoing problems may take longer to resolve.
Are their cases where children don't respond to Play Therapy? What do you do in that case?
Every child is different and will respond in a different way to Play Therapy. For some children it might take longer to see a change, for others change might happen quickly. Therapy is not a straightforward quick solution; it is a gradual process. In fact, things can get worse before they gets better. In Play Therapy we go with the child's pace, which means that some children might need more time to build a trusting relationship with the therapist, which will allow them to express themselves and process what is happening in their life.
However, there might be cases where children don't want to stay in the play room for the whole session – they might want to leave earlier, or want their parents with them or even don't want to come at all. If they want to leave earlier we might consider having sessions for 20 or 30 minutes to see how the child will respond and then gradually increase the length of the session. If the child wants his parent with him we might ask the parent to stay with the child for 10-15 minutes at the beginning of the session until the child feels comfortable to stay only with the therapist. Then, gradually we decrease the amount of time that the parent stays in the play room until the child is able to stay only with the therapist.  If the child refuses to come for play therapy usually we offer 2 more sessions. If after 3 sessions the child continues to refuse to come for play therapy or he still wants to leave early or have his parent with might consider that the child is not ready yet for Play Therapy. In this case we can refer the child to another professional who we think might be able to help the child more.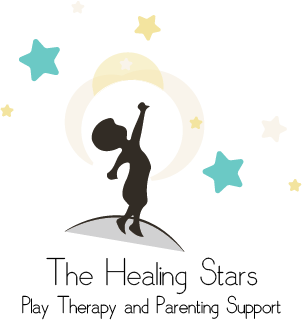 Belina is a registered member of the British Association of Counselling and Psychotherapy (BACP) with a registration number 238718. After completing her undergraduate studies in Psychology in Greece, she moved to London where she studied and worked for 7,5 years. During that time she completed her MSc in Child, Adolescent and Family Mental Health and her psychotherapy training in Play Therapy. She has worked in primary schools and children's centres with disadvantaged families and children with complex needs offering Play Therapy and Parenting support. She is also trained in different parenting programmes. In 2018, she moved to Limassol where she created The Healing Stars, offering Play Therapy and Parenting Support. The idea was to create a safe space for children and families where they can receive the help that they need through a holistic approach and the mission is to "support children and families to have emotionally healthy lives". Belina is bilingual and she can work with families and children in either Greek or English.
If you would like to get in contact with Belina to see how she can help your child/ren or your family, you can find all the relevant links and contact details below:
t: 99 874 917
fb: @thehealingstars
insta: @thehealingstars
Play Therapy and Parenting Support
Ethnikis Antistaseos 9, KWS Court, Apartment 303,