News-O-Matic
Would you like your children to become interested in the world around them (beyond your local community), but find watching the evening news together too daunting? I know we did when our boys were little.
I believe that when kids get to a certain age, we have an obligation to offer them insights into what living in this world is really like. We cannot shield them from the (ugly) truth forever, nor can we pretend bad things do not happen out there. Because if we do, and they find out the hard way, they may be unprepared to process their emotional response to negative events – however small or big, whether it affects them locally or not.
Children talk among themselves at school. Even if we don't want to burden our own with the sad news that another terrorist attack / plane hijack / suicide bombing has taken place, they may hear it from a classmate in a way that may make them anxious and scared of going outside.
Controlling the narrative of daily life – while we still have the opportunity – is essential to preparing their malleable little brains for the realities that lie ahead, for all things positive as well as negative. But we don't always know how, so a tool that helps us find the right approach can come in handy.
Enter 'News-O-Matic', which our two boys have greatly benefited from over the years.
News-O-Matic is the first daily newspaper just for kids, which provides an exciting and engaging, always age-appropriate experience for children. As they mention on their website 'thanks to its unique combination of editorial and technology, News-O-Matic creates innovative solutions to help children become tomorrow's responsible citizens. It gives young readers a window into the world — and a reason to love reading news.'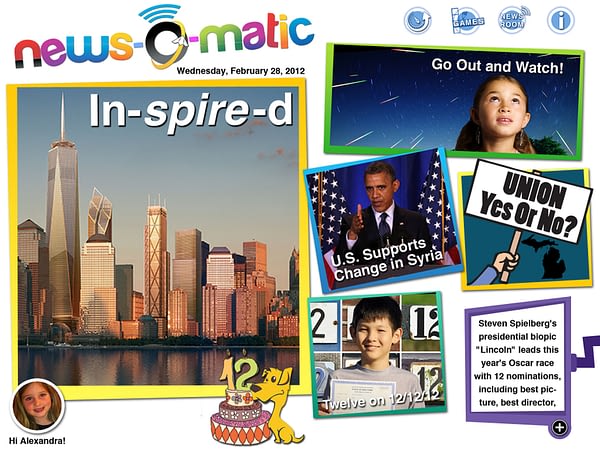 Totally true! A daily email for parents gives you the heads-up on the issues covered, along with meaningful conversation tips on the topics raised, whether good news or bad.
Here's a screen shot of that mail from a week ago: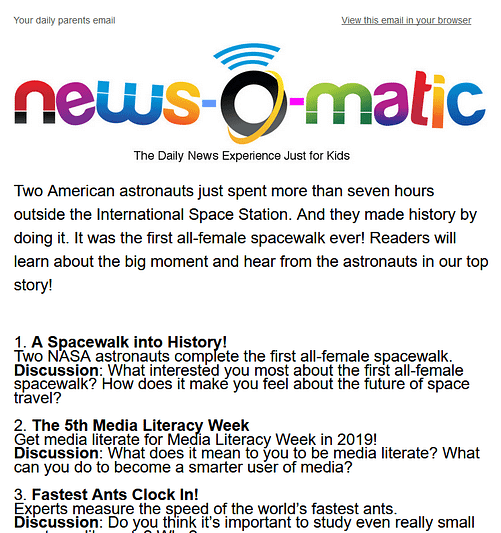 You can select the age range and the language (currently available in English, French or Spanish), and they have a version for use in schools. There's a free trial period, then subscriptions are either monthly, for 6 months or annual. Best money ever spent!
We cannot recommend this enough, and no, this is not a commercial endorsement.
Just try it and let us know how you like it in the comments below, your feedback is more than welcome!
Access the website from here, with the app available on the App Store and Google Play. There's also a version for Kindle.


You heard it here first 😉