You may already have seen some of the fantastic feedback posts made by our MiC Testing Team regarding the super products from the Marathon Trading range of family-friendly items.
This week, we are thrilled to introduce you to the NUBY Weaning Net Nibbler. This invention is so brilliant, it makes you wonder how you've managed without it for so long…we wish it was around when our children were in the weaning stage!
Mess-free, risk-free and wonderfully BPA-free, it really is perfect for introducing new foods and textures, like fruits and vegetables. The childproof, easy squeeze and twist locking system prevents the baby from opening the net, and the food item cannot drop out.

We put the NUBY Nibbler to the test with our MiC Testing Team, and Tatiana told us that 'it's a safe solution to provide the food inside of this product because it prevents chocking. Also, babies don't get dirty or mess up the house like when they hold the food with their bare hands (which we were doing before).' She particularly liked the appearance and the design. 'It's easy to open and put the food inside. And it's safe because it locks really well so babies are not able to open it.'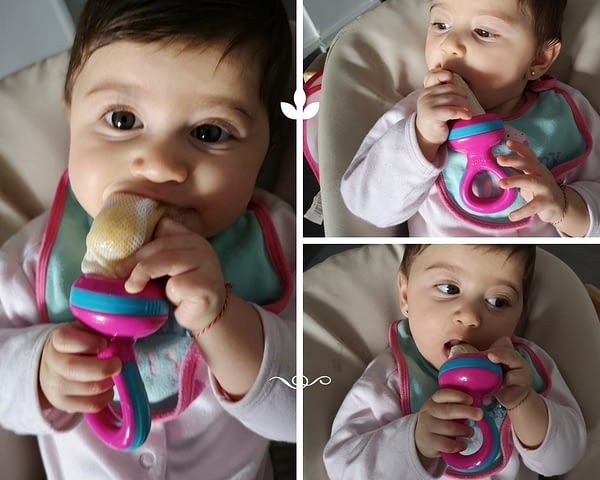 Vicky's 8 months old 'was very enthusiastic about the product and seemed very comfortable using it even from the very first time.' She let the baby use it for about 20 minutes the first few times 'and he didn't seem bored with it. He can now enjoy his fruits safely and all on his own! Highly recommend it!'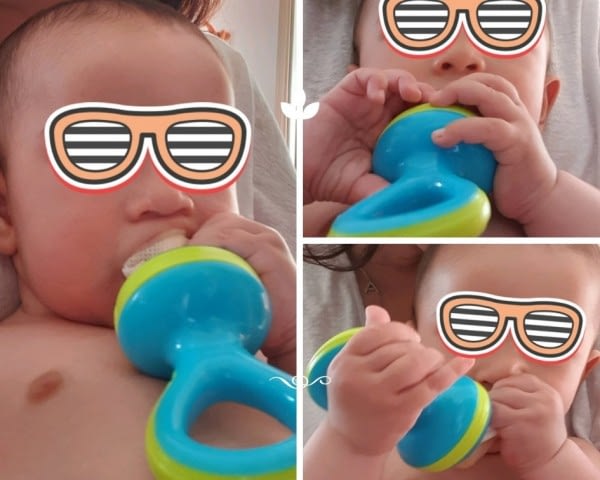 Marcela very much liked 'the handle and ease of use' as well as the design and colours. Most of all she loved that 'my baby was able to eat alone and had fun while doing it'. Yes, we can see that 🙂
Once your baby has finished munching away on their fruit, the net can be detached for easy cleaning. The best part is that you can fill the NUBY Weaning Net Nibbler with frozen fruit or ice and you've got yourself a perfect teether!
Foods that also work well include melon, apple, mango, peaches and pears. Fully cooked potato, carrot and parsnip are equally great, your baby can discover a whole range of fruits and vegetable safely and independently.
We cannot recommend this fabulous weaning tool enough, so go ahead and put that on your 'Must-Have' list of items…unless of course, you're feeling lucky. In that case you are welcome to enter our upcoming #WednesdayWin for your chance to win one of three NUBY Weaning Net Nibblers in our MiC Members-Only Exclusive!
Stay tuned!