Introducing our latest #WednesdayWin competition – 3 copies of Lisa Gargaro Sleep.co's guide to the first few week's of your new baby's sleep!
We'll let the expert speak for herself about this fab e-book worth 15 euros (or, if getting a good night's sleep is important to you, it's priceless! 🙂 ):
Welcome Mama!
First of all, a huge congratulations on your impending arrival, or the recent arrival of your baby! The journey of motherhood you are about to embark on is a truly amazing one. Although, being honest with you, it will also have its many challenges along the way.
As you are aware, during your prenatal stage you will have been given lots and lots of information on the birth, feeding and the various option discussed with you (depending on your country of maternity care and especially if you are breastfeeding). The support in all of these areas is great and it still continues once your baby is born.
However, what I have noticed is the distinct lack of honest, helpful, and reliable information available to parents about what to expect with their new baby's sleep and sleep needs. What I find really strange is this very part is going to be something that will definitely rule your life greatly and heavily over the next few years! I believe passionately that this then makes it something you'll be investing time into to ensure you truly understand. Knowing what to expect sleep-wise for both everyone will be invaluable. This better understanding will help your baby learn great sleep habits from a very early age.
This is where I came in and exactly why I am here! My mission being to help families be able to better understand their baby, allowing them to be more confident in their response to their baby's needs.
So, let's not delay any more. Let's get started today with this guide specifically for mamas like you!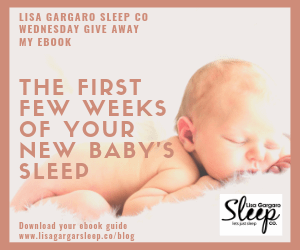 How can I win one of these e-books?
To enter the competition, simply email: kat@mumsincyprus.com with
"Lisa Gargaro Sleep.co" in the subject line.
Please also provide us with:
Your full name
The town you reside in (in Cyprus)
Your mobile telephone number
THE COMPETITION WILL CLOSE ON WEDNESDAY OCTOBER 24, 2018 AT 17:00!
Once the three winners have been drawn, on or after Wednesday October 24 2018, they will receive a link to download their personal copy of Lisa's e-book.
You can find further information this newborn sleep guide, as well as Lisa's other sleep consultation services, you can go to her website >> here.
website: www.lisagargarosleep.co/
facebook: @LisaGargaroSleep.co
t: 00357 99260557
Skype name: dream.sleep.club