Charity for improving children's psychological health and well-being
The Dr. Yiota Demetriou The Dancing Queen Foundation was founded by friends and family and is a loving tribute to Dr. Yiota Demetriou whose ambition to help children, in the field of child psychology, was cut short due to a tragic accident in November 2008. The accident was a result of a drunk driver.
Although Dr. Yiota Demetriou did not live to realise her dream, the Foundation aspires to keep her passion for children alive by enhancing the psychological health and welfare of children and their families.
Making educational and clinical support a priority, the foundation strives to meet its objectives by supporting programs as well as raising funds and awareness for children with mental health challenges.
The foundation hosts three main events annually:
The charity walk 'I'd Rather Walk Than Drink and Drive' in November
The 'Children's Fun Day' hekd in conjunction with the English Learning Center in May
The 'Charity Party', a social evening event for the friends and supporters of the foundation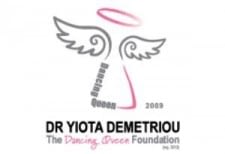 Tel 25 818140